the good stuff botanicals
The health and happiness of my clients means everything to me. That's why I don't endorse any products that I'm not 100% in love with. The Good Stuff Botanicals are simply incredible, and I'm thrilled to offer their products.
This Montana-based company is passionate about healthy lifestyles and creates organic products that are backed by nature's chemistry (not big pharma's chemistry). They're on a mission to create the best skin care products using the rawest possible ingredients from nature while using their business to spread knowledge about the benefits of organics.
Now you're speaking my language!
100% ORGANIC. 100% WORTH IT.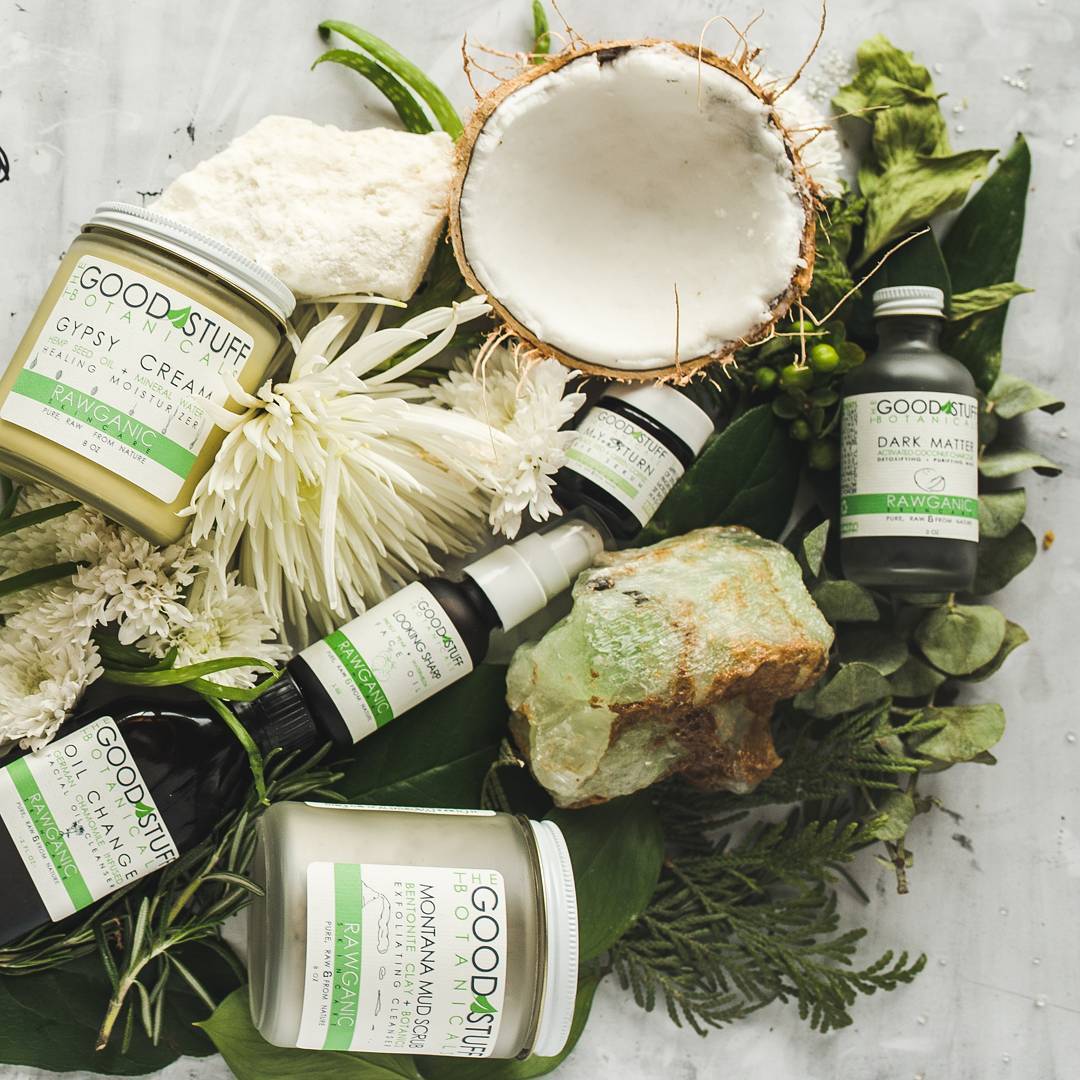 WHY I ONLY USE THE GOOD STUFF
WHY EMBRACE "RAWGANIC?" (IT'S A WORD, TRUST US.)
Our skin absorbs 60% of what we apply topically into our bloodstream, so The Good Stuff Botanicals uses only the best, healthy ingredients in their products. In fact, they believe you shouldn't put anything on your skin that you couldn't ingest!
They scoured the earth to source their ingredients, from Indian kokum butter to Montana mineral water. They base their formulas on age-old, tried and true recipes. They use certified organic, GMO free ingredients and steer clear of parabens, sulfates, chemicals and fragrance, and dyes. ("No funny stuff!")

Some of their products, like Cottonwood Creek, feature ingredients that they sustainably hand-harvested themselves from the mountains of Montana, where the air is clear of pollution. They've dubbed the term "RAWGANIC." (It's not certified organic, but it's straight from the raw earth, even better!)
why buy local?
Sure, I could sell "big brand" products to my clients. But that doesn't align with my values of supporting local businesses (especially when they make far superior products).
The Good Stuff Botanicals is active in Bigfork and surrounding communities, and their team spends much of their time talking with folks at local farmer's markets about skin issues and how to solve them organically.
They also donate products to birthing centers, hospitals, veterans, and those in special need. Plus, they're members of the Bigfork Chamber of Commerce and donate as much time as they can to community events. (They even spearheaded an Earth Day event!) They currently donate to NPR, Missoula College Radio, Kalispell Medical Regional Center, Heart & Hands, Fern Creek Midwives, and Bigfork School Gardens to name a few.
INTRIGUED? REQUEST A SAMPLE AT YOUR NEXT APPOINTMENT!